Directions
Mix the sugar, water and lemon juice together in a small saucepan. Heat over a medium heat stirring occasionally until the sugar is dissolved. Remove from heat and chill.
Cut up the watermelon and remove all seeds and cut away rind. Puree in a high-speed blender or food processor. Pass the watermelon through a sieve if seeds remain or flesh too coarse.
Stir in chilled sugar syrup. Pour into a freezable container, and place in the freezer for 2 hours. After 2 hours it can be flaked with a fork and spooned into ice block moulds. Pack and push into the moulds to remove any holes. Freeze for minimum of 8 hours before serving.
Alternatively, freeze in an ice-cream maker according to the manufacturer's instructions. Once frozen scoop into an airtight container and store in the freezer.
Featured Products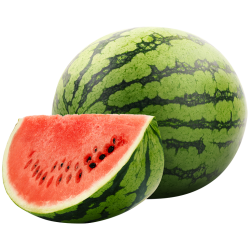 WATERMELON
Juicy, colourful and delicious, there's no summertime fruit quite like watermelon.
Gisborne

Gluten Free

Vegan

Dec – Feb

Super Hydrating
Total time
30 mins
Prep time
30mins
Chill Time
2 + 8 hours
Serving
12-15
Difficulty
Easy
Ingredients
2 cups caster sugar
1 cup chilled water
½ cup lemon or lime juice
6 cups watermelon