Directions
Remove the Watermelon from the fridge. Cut in half and reserve one half for eating. Cut the other half into slices and trim away the rind. Cut the pieces into smaller bite sized pieces. Place pieces on a plate and keep chilled.
Prepare the other vegetables. Slice the radishes and refresh in ice cold water to crispen up.
Arrange the contents of the Continental or Crispy Salad, or whatever salad greens being used on a large serving platter. Arrange the slices of watermelon, radishes and jalapeno chillies over the top.
Whisk together the ingredients for the lime dressing in a small bowl. Drizzle over one third of the dressing coating the watermelon. Toss to coat the leaves and watermelon. Garnish with extra chillies, mint leaves and chill for 10-15 minutes before serving to allow the dressing to soak in.
Serve with extra dressing on the side.
Variation:
Any salad greens from the Leaaderbrand range can be used in this salad. For less spice substitute the jalapeno with marinated artichokes or green olives.
Featured Products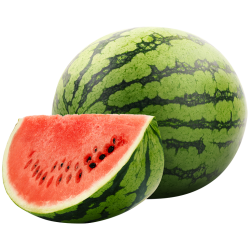 WATERMELON
Juicy, colourful and delicious, there's no summertime fruit quite like watermelon.
Gisborne

Gluten Free

Vegan

Dec – Feb

Super Hydrating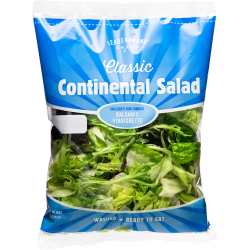 CONTINENTAL SALAD
A light, crisp, and colourful salad complimented by our signature LeaderBrand Balsamic Dressing.
Available All Year Round

Washed & Ready To Eat

Dressing Included

No Additives

Vegan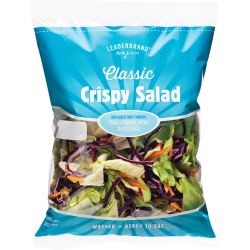 CRISPY SALAD
Sweet, crisp iceberg lettuce with carrot, red cabbage and our traditional Kiwi dressing creates an unbeatable combination of taste and colour.
Available All Year Round

Gisborne & Pukekohe

Washed & Ready To Eat

Dressing Included

Vegetarian
Total time
25 mins
Prep time
25
Serving
4-6
Difficulty
Easy
Ingredients
Half a Watermelon
1 x 300g bag of Leaderbrand Continental or Crispy Salad mix
½ cup jalapeno chillies, sliced
1-2 fresh green chillies, sliced, optional
6 pink radishes, sliced thinly
½ cup mint leaves
Lime & chive dressing:
1 cup lime juice, fresh or bottled
¼ cup extra virgin olive oil
¼ cup snipped chives
1-2 teaspoons honey
½ teaspoon mustard powder
Salt and freshly ground black pepper