Directions
Grease a 23cm spring form tin with melted butter. Line base with baking paper.
Finely crush biscuits in a food processor. Combine biscuit crumbs, cocoa powder ,brown sugar, cinnamon and butter. Spoon the biscuit mix into the spring form tin and press down using the back of a spoon. Chill for 20-30 minutes, while preparing filling.
Puree the watermelon in a food processor or blender. Combine the watermelon with the sugar in a saucepan, and allow to boil and become tender, for about 5 minutes. Push the puree through a sieve, discard the pulp and any seeds. Add the food colouring, if desired.
Combine the gelatine and water. Leave to swell for 5 minutes.
Beat cream cheese until soft. Add sour cream and honey. Beat until well combined in the bowl of a food processor. Add the vanilla seeds and ¼ cup of the watermelon syrup and soaked gelatine. Beat until well combined. Fold in the second measure of watermelon. Spoon filling into prepared base. Chill for 20-30 minutes.
Soak the second measure of gelatin in 2 tablespoons of boiling water. Add the gelatin mix into the warm watermelon syrup and stir until dissolved. Pour the jelly syrup over the top of the cheesecake. Leave to set for 1-2 hours before serving.
Garnish with extra slices of watermelon, and keep chilled until ready to serve.
Featured Products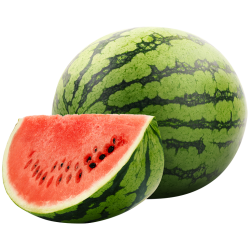 WATERMELON
Juicy, colourful and delicious, there's no summertime fruit quite like watermelon.
Gisborne

Gluten Free

Vegan

Dec – Feb

Super Hydrating
Total time
120 mins
Prep time
20mins
Serving
6-8
Difficulty
Medium
Chill Time
2 hours
Ingredients
250g Super Wine biscuits
2 tablespoons Dutch cocoa powder
1 tablespoon brown sugar
½ teaspoon cinnamon
120g butter, melted
4 cups cubed Watermelon, skin, seeds removed
¾ cup caster sugar
2 tablespoons lemon juice
1-2 drops red food colouring (optional)
4 teaspoons gelatine
4 tablespoons water
500g cream cheese
250g sour cream
2 tbsp honey
1 vanilla bean or 1 tsp vanilla paste
2 cups Watermelon, cut into small cubes
2 teaspoons gelatin
To serve, extra slices Watermelon