Directions
Heat a saucepan of water and bring to boil. Add rice and cook until tender, about 12 minutes. Drain, cover and set aside to cool. In same oil fry cashew nuts for 2-3 minutes until starting to brown. Remove to a side plate.
When ready to prepare fried rice, heat 4 tablespoons of oil in a large frying pan and fry eggs, for 3 minutes, until egg yolk set and whites starting to bubble and brown. Remove from pan and set aside.
Add remaining oil to frying pan and cook onions until tender on a medium heat. Add garlic, ginger, chilli paste and curry powder and cook over a medium heat until spices are aromatic. Season to taste with salt and freshly ground black pepper.
Add cooked rice to pan with peas, and toss well to incorporate the onion and spice mix. Heat through for 10 minutes, stirring well to combine. Add half the cashews back into rice and half a bag of Leaderbrand Baby Spinach Leaves. Toss to combine.
Season with soy sauce to taste. Cut three out of four eggs roughly into pieces. Arrange remaining spinach leaves on the bottom of a shared platter. Top with warm rice mix, and then the chopped egg. Garnish with plenty of fried shallots. Serve with topped with extra fried egg if needed.
Featured Products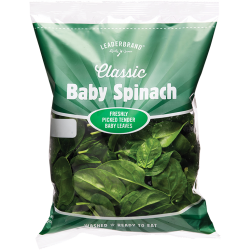 BABY SPINACH
Creamy, smooth, and full of vitamins! Toss through another salad, add a handful to a smoothie or cook with many other dishes.
Available All Year Round

Gisborne & Matamata

Gluten Free

Washed & Ready To Eat

Vegan
Total time
55 mins
Prep time
30 mins
Cook time
25 mins
Serving
4-6
Difficulty
Easy
Ingredients
2 cups (400g) white long-grain rice
7 tablespoons vegetable oil
4 free-range eggs
2 cups cashew nuts, unsalted
2 onions, finely sliced
3-4 garlic cloves, crushed or finely sliced
2 tablespoons grated ginger
1 tablespoon crushed chilli paste or sambal olek
2 tablespoons mild curry powder
Salt and freshly ground black pepper
130g bag LeaderBrand Baby Spinach
1 cup frozen peas
2 tablespoons light soy sauce
4 tablespoons ready-fried onion (shallot) flakes
To serve, fried shallots, and roasted cashews