Directions
Step 1
Remove the steaks from the fridge and allow to rest at room temperature for 3-5 minutes.
Step 2
Season well with salt and pepper. Heat a heavy-based frying pan or grill plate over a hot heat. Cook the steaks for 3-4 minutes on each side until the meat is a desired doneness. Leave to rest on a chopping board for 5 minutes, before slicing into thin strips. Cover and set aside.
Step 3
Prepare the vegetables; peel and slice the red onions; remove the seeds and membranes from the capsicums and slice; halve the cherry tomatoes and slice the baby cucumbers.
Step 4
Arrange the LeaderBrand Continental Salad Bag leaves over a large serving plate. Toss together with the red onion, capsicum, tomato and cucumber slices. Arrange the slices of beef over the top, and garnish with plenty of crispy noodles, mung bean sprouts, fried shallots, and fresh herbs.
Step 5
Make the dressing, mix together the kecap manis, sweet chilli sauce and balsamic vinaigrette from the salad bag with snipped chives, and shredded mint. Mix well and drizzle over the salad to serve.
Variation: substitute the beef for grilled chicken or for a vegetarian option fried tofu and roasted peanuts.
Featured Products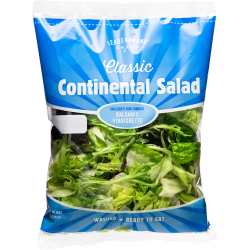 CONTINENTAL SALAD
A light, crisp, and colourful salad complimented by our signature LeaderBrand Balsamic Dressing.
Available All Year Round

Washed & Ready To Eat

Dressing Included

No Additives

Vegan
Total time
23 mins
Prep time
15 mins
Cook time
8 mins
Serving
4-6
Difficulty
Moderate
Ingredients
2 x 200g scotch fillet steaks, or something similar
Salt and freshly ground black pepper
1 red onion, sliced thinly
2 red capsicums
1 cup coloured cherry tomatoes
2-3 baby cucumbers, cut into slices
150g LeaderBrand Classic Continental salad mix
1 cup crispy noodles
1 cup Mung bean sprouts
½ cup Fried shallots, optional

Dressing:
¼ cup kecap manis sauce
2 tbsp snipped chives
2 tablespoons mint leaves, shredded
To Serve:
fresh mint leaves
coriander leaves