Directions
Remove pastry from freezer. Allow to thaw while preparing the meat mix. Grate the squash, prepare the onion and garlic. Heat a frying pan with olive oil. Saute the squash, onion and garlic on a medium to low heat until tender, about 5-8 minutes. Remove from heat and allow to cool.
Place in a large bowl or electric mixer the pork mince, sausage meat, onion and squash mix, with chopped herbs, breadcrumbs, salt, pepper, curry powder and one egg. Mix, using hands or beating with paddle of the mixer to combine all the ingredients well.
Unwrap the pastry, lay each sheet on a dry, slightly floured surface. Mix the second egg with 1 tablespoon water. Brush the surface of the pastry sheet with egg wash. Spoon one fifth of the sausage mix onto the pastry in a long strip on one length of the pastry.
Use wet fingers to shape into an even sausage. Roll the pastry sheet up to encase the sausage. Repeat with the four other sheets of pastry and the sausage filling to form five long rolls. Place the whole rolls on a tray, cover and chill for 20-30 minutes.
Preheat oven to 200°C. Line a baking tray with baking paper.
Cut each roll into slices, about 2-3cm wide, with a sharp serrated knife. Place the individual pieces on a baking tray. Brush the top of each piece with beaten egg wash. Sprinkle with poppy seeds and a little flaky sea salt.
Bake in oven for 30-35 minutes until golden brown, and the pastry has puffed. Serve hot or warm. The rolls can be frozen for 1-2 months, and cooked from frozen.
Featured Products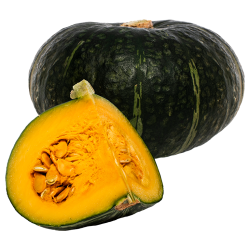 SQUASH
Our squash's unique chestnut flavour and vibrant colour enhances any meal. Use it in delicious soups, pastas, and pies, or bake it into moist cakes and breads.
Dec – Jun

Gluten Free

Rich In Vitamins A & C & Magnesium

Vegan

Gisborne & Chertsey
Total time
70 mins
Prep time
30 mins + chilling time
Cook time
34-40
Serving
4-6
Difficulty
Mediun
Ingredients
500g frozen pre-rolled savoury puff pastry pastry sheets
1 (1kg) Leaderbrand squash, peeled, seeds removed
1 kg pork mince
250g sausage meat
2 onions, finely diced
4 cloves garlic, peeled, crushed
½ cup chopped parsley
8 sage leaves or 2 tablespoons dried sage
2 teaspoons salt
1 teaspoon ground black pepper
2 tablespoons curry powder
1 cup breadcrumbs
2 free-range eggs
2 tablespoons poppy seeds
1 tablespoon flaky sea salt