Directions
Prepare the onion, chilies, squash, snow peas, and spring onions. Have all the ingredients on hand, ready to cook.
Heat the peanut oil in a large wok. Cook the onion until browned and starting to crisp. Remove and drain on absorbent paper. Add the garlic, lemongrass paste and chili slices in the wok until fragrant.
Add the squash and stock and stir-fry until just tender, turning all the time. Cook for about 8-10 minutes. Add the snow peas, spring onions and the reserved cooked onion and cook for a further 5 minute. Season to taste with the sugar, soy sauce sauce and lemon juice. Toss carefully to combine and heat through until sauce thickens slightly.
Remove from heat; toss basil, and cashew nuts through stir-fry until well combined. Accompany with crispy noodles and extra chili.
Featured Products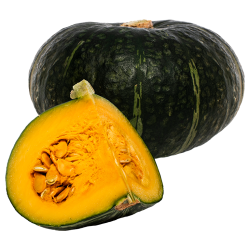 SQUASH
Our squash's unique chestnut flavour and vibrant colour enhances any meal. Use it in delicious soups, pastas, and pies, or bake it into moist cakes and breads.
Dec – Jun

Gluten Free

Rich In Vitamins A & C & Magnesium

Vegan

Gisborne & Chertsey
Total time
40 mins
Prep time
20
Cook time
20
Serving
4
Difficulty
Easy
Ingredients
1 large red onion, peeled, sliced thinly
4 fresh red chilies, sliced thinly
½ Squash, cut into 1cm slices
250g sugar snap peas
4 spring onions, sliced thinly
1/3 cup peanut oil
2 cloves garlic, sliced thinly
1 tablespoon Lemongrass paste
1 tsp grated palm sugar or brown sugar
¼ cup vegetable stock
2 tablespoon soy sauce
½ lemon, juice of
¾ cup Thai or opal basil leaves
½ up roasted unsalted cashew