Directions
Heat the vegetable stock in a small saucepan until simmering.
Heat a frying pan with the oil on a medium heat. Add the onion and garlic and fry until tender for 2-3 minutes. Add the rice and cook for a further 2 minutes stirring constantly.
Add a cupful at a time, the warm stock. Allow a little to be absorbed before adding more. Once all the stock has been added leave to simmer for 10 minutes.
Stir in the one and a half bags of Leaderbrand Baby Spinach Leaves and stir well to combine. Cover and leave to simmer for 5 more minutes. Season to taste.
Turn the heat off and add the butter and half of the cheese. Allow to melt and then stir into the risotto. Serve immediately, while hot.
Garnish with extra baby spinach leaves, fresh herbs and roasted olives to make a bit more special. Serve with plenty of grated cheese. 
Variation:  Add cooked prawns, chicken or even strips of lamb to make into a different kind of risotto. 
Featured Products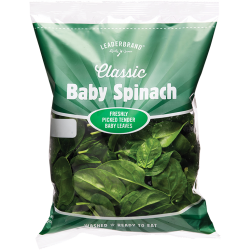 BABY SPINACH
Creamy, smooth, and full of vitamins! Toss through another salad, add a handful to a smoothie or cook with many other dishes.
Available All Year Round

Gisborne & Matamata

Gluten Free

Washed & Ready To Eat

Vegan
Total time
30 mins
Prep time
10 mins
Cook time
20 mins
Serving
4-6
Difficulty
Easy
Ingredients
1.5 litres vegetable stock 
2 tablespoons olive oil 
1 onion, finely diced 
2 cloves garlic, finely chopped 
2 cups arborio rice  
2 x 120g bags Leaderbrand Baby spinach  
50g unsalted butter 
60g Parmesan or cheddar cheese, finely grated