Directions
Grease a metal or ceramic baking dish with a little softened butter. Peel the potatoes, and use a sharp knife to slice the potatoes thinly.
Arrange a layer of potato slices over the base of the dish. Sprinkle with half of the vegetable stock powder, garlic and season with salt and pepper. Evenly place half the butter cube over the potatoes.
Spread over half the bag of Leaderbrand Baby Spinach leaves. Arrange another layer potato slices over the top of the spinach. Sprinkle again with vege stock powder, garlic and season with salt and pepper. Top with the remaining spinach leaves. Finish with a final layer of potatoes.
Mix milk and cream together and pour over the potato, allowing it to sinki in and cover the potatoes. Finish by arranging the last cubes of butter over the top,
Cover the dish with foil, place on a baking sheet and bake at 200°C for 1 hour. Remove the foil and bake for a further 15 minutes until the potatoes are softened and the top is golden brown.
Variation: Dairy Milk and cream can be substituted easily for nut milk, and butter can be changed to olive oil dairy-free spread if preferred.
Featured Products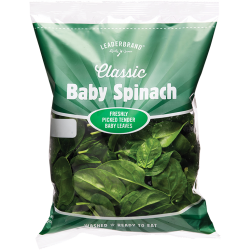 BABY SPINACH
Creamy, smooth, and full of vitamins! Toss through another salad, add a handful to a smoothie or cook with many other dishes.
Available All Year Round

Gisborne & Matamata

Gluten Free

Washed & Ready To Eat

Vegan
Total time
80 mins
Prep time
20 mins
Cook time
1 hour
Serving
4-6
Difficulty
Easy
Chill Time
Ingredients
120g bag Leaderbrand Baby Spinach
1.5kg waxy potatoes
1 teaspoon vegetable stock powder
2 garlic cloves, peeled and finely diced
Salt and pepper
60g butter, diced into small cubes
450ml milk
150ml cream