Directions
Wash and cut potatoes into small pieces. Cook in a covered pan, for 5 – 8 minutes.
Heat oil in a large frying pan over a medium heat. Add the onion and garlic and cook for 4-5 minutes until tender. Add the garam masala and stir fry for 2 minutes. Season to taste with salt and pepper.
Add the potatoes and toss through the onions and spices. Stir in the vegetable stock cube. Stir in half a cup of water and bring to a boil for 8 minutes.
Add the bag of Leaderbrand Spinach, cover, turn down the heat as low as possible and simmer for 10 minutes until the potatoes are cooked. Give the dish an occasional stir and if it dries out add a little more water, yogurt or coconut cream.
Serve with grilled flat bread and Greek yogurt or coconut cream if desired.
Featured Products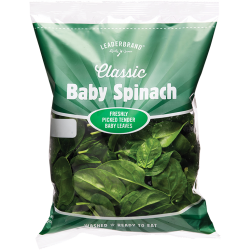 BABY SPINACH
Creamy, smooth, and full of vitamins! Toss through another salad, add a handful to a smoothie or cook with many other dishes.
Available All Year Round

Gisborne & Matamata

Gluten Free

Washed & Ready To Eat

Vegan
Total time
30 mins
Prep time
15 mins
Cook time
15 mins
Serving
4-6
Difficulty
Easy
Ingredients
600g potatoes
¼ cup vegetable oil
2 medium onions, finely sliced
2 cloves garlic, finely chopped
1 tablespoon garam masala
1 vegetable stock cube
120g bag Leaderbrand Baby Spinach
Salt and freshly ground black pepper
To serve, extra spinach leaves, yogurt or coconut cream, grilled flat bread