Directions
Step 1
Trim the woody end from the LeaderBrand Asparagus. Use a sharp knife or potato peeler to thinly slice the spears. Bring a pot of water to a boil. Quickly blanch the LeaderBrand Asparagus for 20 seconds in the hot water, then refresh in ice-cold water. Set aside.
Step 2
Bring a large pot of water to a boil. Season well with salt. Add the dried spaghetti and cook for 12 minutes until tender to the bite. Drain well.
Step 3
Heat a large saute pan with a little olive oil and butter. Fry the onion for 2-3 minutes until tender, but not brown on low heat. Add the garlic and cook for further 2 minutes. Add the spaghetti pasta to this and heat through, tossing the onion and pasta together. When hot, pour over the beaten eggs and half of the cheese and toss through until well combined. Season to taste with salt and freshly ground black pepper.
Step 4
Finally, toss through the asparagus slices and chopped parsley. Sprinkle over lemon juice, before serving and Garnish with plenty of extra cheese and fresh herbs.
Serve hot in individual bowls, or one large bowl for family mealtime.
Featured Products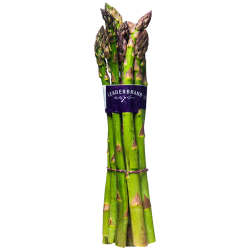 ASPARAGUS
A springtime favourite and super versatile too, asparagus is considered a culinary delight for New Zealanders up and down the country.
Sept – Dec

Chertsey

Gluten Free

Source Of Vitamin C

Vegan
Total time
20 mins
Prep time
5-10 mins
Cook time
15 mins
Serving
4-6
Difficulty
Easy
Ingredients
250g LeaderBrand Asparagus
500g thin spaghetti
2 tablespoons olive oil
2 tablespoons butter
1 onion, peeled, diced
2 cloves garlic, minced
3 eggs, beaten
200g Pecorino or Parmesan cheese, freshly grated
2 tablespoons finely chopped parsley
1 lemon, juice of
To serve, fresh herbs