Directions
Step 1
Cook noodles according to packet instructions. Whisk fish sauce, rice wine vinegar, brown sugar and soy sauce in a small bowl.
Step 2
Dry tofu with paper towels pressing down firmly. Cut tofu into 2cm cubes, sprinkle with salt and pepper. Sear the tofu in a wok with hot oil until golden brown over medium-high heat. Set aside.
Step 3
Heat two tablespoons of peanut oil in the wok over medium heat, add garlic and ginger and stir, cooking for just a minute until fragrant. Add the drained, semi-soft noodles and toss with the mixture. Add the Ranchslaw and Pad Thai Sauce and cook for 1 minute. Add the cooked tofu, bean sprouts and toss with the noodles until combined.
Step 4
Serve immediately by dividing between bowls and garnish with crushed peanuts, chilli, extra bean sprouts and lemon wedge.
Featured Products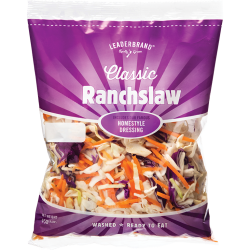 RANCHSLAW
A farmstyle classic that comes with our delicious Homestyle Dressing. The perfect combination of taste, colour, and crunch!
Available All Year Round

Gisborne

Gluten Free

Washed & Ready To Eat

Dressing Included

Vegetarian
Total time
30 mins
Prep time
15 mins
Cook time
15 mins
Serving
4
Difficulty
Moderate
Ingredients
1pack LeaderBrand Ranchslaw
200g Pad Thai noodles
1 tsp crushed garlic
1 tsp finely grated ginger
300g tofu
Salt and pepper to taste
100g bean sprouts
Peanut oil
1 lemon
Crushed peanuts, to serve
Diced chilli, to serve
Spring onion, to serve
Pad Thai Sauce:
3 Tbsp fish sauce (leave out if vegan)
3 Tbsp brown sugar
3 Tbsp of rice wine vinegar
1 tsp soy sauce