Directions
Ready in 1 hour 45 minutes, serves 12.
1. Preheat the oven to 180ºC on bake.
2. Grease and line the base of a 23cm spring-form cake tin with paper.
3. In a large bowl place the first four ingredients and mix, giving it a good stir.
4. Sift the next six ingredients into another bowl.
5. Add the ­flour mix to the wet ingredients, alternating with the grated beetroot.
6. Mix together lightly and place in the tin. Bake for 1 hour and 30 minutes or until a skewer comes out clean.
Test this cake while it's baking with a skewer or sharp knife – it can look cooked, but the middle may still be raw. Leave to cool in the tin and then remove to ice.
Icing:
Make a Beetroot chocolate ganache by melting 125g dark chocolate and ½ cup juiced beetroot together. Heat gently, then pour over the cake.
Featured Products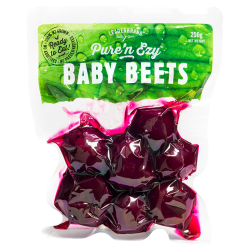 PURE'N EZY BEETROOT
Pure and simple with nothing added, our beetroot is 100% grown, packaged, and perfectly cooked here in New Zealand.
Available All Year Round

Chertsey

Gluten Free

No Additives

Vegan
Total time
110 mins
Prep time
20mins
Cook time
90 mins
Serving
1 cake
Difficulty
Easy
Ingredients
2 cups sugar
1 1/2 cups vegetable oil
4 large eggs
2 tsp vanilla extract
2 cups ­flour
1 tsp baking soda
1 tsp baking powder
1/2 cup Dutch cocoa
3/4 cup chocolate chips (DF or use +50% Whitakers which is Dairy Free)
1 tsp salt
2 cups finely chopped LeaderBrand Beetroot
Icing – Chocolate Beetroot Ganache
125g dark chocolate
1/2 cup Beetroot juice