Directions
Step 1
Preheat grill plate, frying pan or BBQ plate to medium-hot. Remove any skin or excess fat from the ham. Prepare the vegetables. Mix together the maple syrup and mustard and brush over the surfaces of the ham. Quickly grill each side of the ham steaks, until warmed through and browned. Remove the ham onto a plate and keep covered.
Step 2
While the grill plate is hot, add the cherry tomatoes, and toss for 3-4 minutes, until the skins are just beginning to split. Remove to a warm plate and set aside. On the same grill plate arrange the courgette slices and capsicum wedges and grill, until just charred and tender.
Step 3
Combine together the lemon juice, vinegar, maple syrup, garlic, parsley, thyme and mustard in a small jug or glass jar with a lid. Whisk in the oil, until well emulsified.
Step 4
Assemble the salad on a large serving platter. Arrange the LeaderBrand Crispy Salad, and then arrange the ham, tomatoes, red capsicum, and courgettes over the top.
Drizzle with plenty of the mustard dressing and garnish with mint.
Featured Products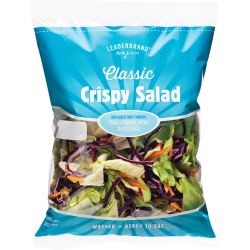 CRISPY SALAD
Sweet, crisp iceberg lettuce with carrot, red cabbage and our traditional Kiwi dressing creates an unbeatable combination of taste and colour.
Available All Year Round

Gisborne & Pukekohe

Washed & Ready To Eat

Dressing Included

Vegetarian
Total time
25 mins
Prep time
10 mins
Cook time
10-15 mins
Serving
4-6
Difficulty
Easy
Ingredients
600g free-range ham, thick slices
¼ cup maple syrup
1 tsp American style mustard
1 bag LeaderBrand Crispy Salad
250g cherry tomatoes
3-4 small courgettes, sliced lengthways
2 red capsicums, seeds removed, sliced
Mint leaves, to serve
Mustard dressing:
1 lemon, juice of
2 Tbsp white wine vinegar
2 Tbsp maple syrup
1 clove garlic, crushed
½ cup flat-leaf parsley roughly chopped
2 Tbsp thyme leaves
2 Tbsp American mustard
½ cup peanut or vegetable oil