Directions
Dry chicken wings with clean paper towel, place in a large bowl. Preheat oven to 120°C. Place a rack or trivet on a large baking tray.
Mix together the baking powder, cream of tartar, cornflour, salt and pepper. Sprinkle dry mix over the wings. Use hands to toss well (or shake in a ziplock bag) to coat wings evenly. Place wings skin side up on the rack. Bake for 30 minutes.
Turn the oven up to 220°C and cook for a further 35 minutes. Turn the wings over half-way through cooking time. The wings are ready when outside skin is crispy. Leave to rest once removed from oven.
Remove the salad dressing pack from the Crispy Salad bag. Whisk together the hot chilli chipotle sauce and the salad dressing. Drizzle half the sauce over the cooked wings.
Make the blue cheese dip, mash the blue cheese with sour cream until smooth. Add remaining ingredients and mix well until combined. Chill until required to use.
Arrange the chicken wings with salad, blue cheese dip and plenty of sliced gherkins and snipped chives. Use the remaining hot chill salad dressing mix to coat the Salad. Chicken wings can be served hot or cold.
Featured Products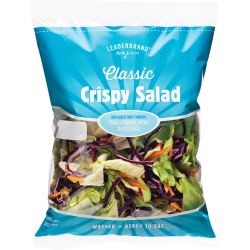 CRISPY SALAD
Sweet, crisp iceberg lettuce with carrot, red cabbage and our traditional Kiwi dressing creates an unbeatable combination of taste and colour.
Available All Year Round

Gisborne & Pukekohe

Washed & Ready To Eat

Dressing Included

Vegetarian
Total time
80 mins
Prep time
20 mins
Cook time
60 mins
Serving
6
Difficulty
Easy
Ingredients
2kg chicken wings
6 teaspoons baking powder
1 tablespoon maize cornflour
1 teaspoon cream of tartar
1 teaspoon each of salt and ground black pepper
1 cup hot chilli chipotle sauce
Bag of Crispy Salad
Blue Cheese Sauce:
150g crumbled blue cheese, softened
½ cup sour cream
¼ cup mayonnaise
1 clove garlic, minced
2 tablespoons lemon juice
½ teaspoon salt and ground black pepper
To serve, sliced gherkins or cornichons, snipped chives