Directions
Step 1
Remove the LeaderBrand Iceberg Lettuce from the bag, and cut into wedges, slicing the white core away. Refresh in cold ice water, keeping the wedges together. Cover with damp kitchen paper to keep crisp.
Step 2
Tear apart the drumsticks, wings and meat from a pre-cooked chicken. Remove any stuffing and set aside. Slice the grapes in half lengthwise. Use a fork to run down the outside, lengthwise of a telegraph cucumber, then slice into thin slices.
Step 3
Mix together in a small jug or bowl the mayonnaise, yogurt, curry powder, ginger, pepper and dill. Season with salt to taste. Mix well.
Step 4
Arrange the iceberg lettuce wedges and cucumber slices over a large serving platter. Top with shredded chicken meat, stuffing and the larger pieces like wings, and drumsticks.
Step 5
Drizzle over half the curry mayo, and top with sliced grapes, spring onions and fresh herbs to garnish. Keep chilled until ready to eat. Serve with extra curry mayo on the side and fresh lemon wedges for garnish.
Featured Products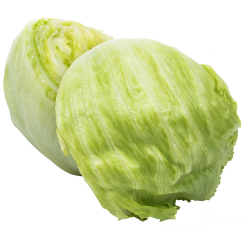 LETTUCE
We're often asked why our lettuce keeps its crunch so long?! We harvest it when its ready, vacuum cool it immediately and keep it cool delivered right to your store.
Gisborne & Pukekohe

Gluten Free

Vegan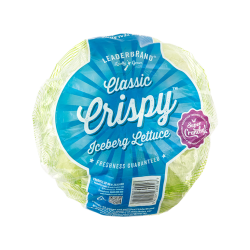 WRAPPED LETTUCE
When it comes to lettuce, we cut out the middleman. Every bag of our Wrapped Lettuce is grown, harvested, packed, and delivered to your local store by LeaderBrand.
Available All Year Round

Gisborne & Pukekohe

Gluten Free

Vegan
Total time
15 mins
Prep time
15 mins
Serving
6
Difficulty
Easy
Ingredients
1 LeaderBrand Iceberg Lettuce
1 whole pre-cooked chicken with stuffing
200g red or green table grapes
1 telegraph cucumber
2 spring onions, finely sliced
Curry mayo:
½ cup mayonnaise
½ cup natural unsweetened yogurt
1 tablespoon curry powder
1 teaspoon fresh grated ginger
½ teaspoon ground black pepper
1 teaspoon dried dill, optional
½ teaspoon sea salt
To Serve:
microgreens and fresh herbs