Directions
Step 1
Preheat oven to 200°C. Spread the cashews and peanuts over a baking tray. Toast in the oven for 8-10 minutes, turning halfway through the cooking. Remove the nuts and allow to cool, remove any skins, then roughly chop and set aside.
Step 2
Cook noodles in boiling salted water for 6 to 8 minutes until tender. Drain, add a little sesame oil to keep noodles separate.
Step 3
Heat a frying pan on medium heat. Melt together the oil, butter, and honey. Add the shallot, garlic, chilli and chives saute until tender. Add the prawns and cook for 5 minutes until pink and well heated through.
Step 4
Remove the prawns onto a warm plate. Mix the LeaderBrand Coleslaw with the dressing included in the bag.
Step 5
Toss the noodles through the butter mix in the frying pan. Divide the noodles between 4 warm plates or bowls and top with Leaderbrand coleslaw. Divide the prawn tails over the plates and dress with any extra of the honey and chilli sauce.
Serve with a sprinkle of toasted nuts and coriander leaves.
Featured Products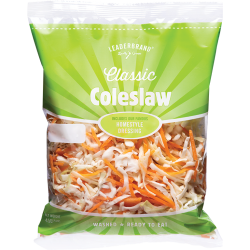 COLESLAW
The crisp sweetness of our Classic Coleslaw is complimented by LeaderBrand's signature Homestyle Dressing – a true dinnertime favourite!
Available All Year Round

Gisborne

Gluten Free

Washed & Ready To Eat

Dressing Included

Vegetarian
Total time
40 mins
Prep time
20 mins
Cook time
18 mins
Serving
4
Difficulty
Easy
Ingredients
300g LeaderBrand Coleslaw
1 cup raw cashews
1 cup raw peanuts
375g rice stick noodles
2 tablespoon sesame oil
50g butter
2 tablespoons Manuka honey
2 shallots, finely diced
2 cloves garlic, crushed
2 chillis, finely sliced
3 tablespoons fresh chives
600g prawn tails
2 cloves garlic, crushed
2 tbsp chopped parsley
2 tbsp sesame seeds
To Serve: