Directions
Preheat oven to 200°C. Slice bread rolls through the middle, lengthways, keeping the rolls together as much as possible. Place the bottom of the rolls into a large flat baking dish.
Spread the pickle or chutney over the base of the bread. Arrange the slices of cold meats and cheeses over the top.
Spread half the bag of Leaderbrand Coleslaw over the cheese and meats. Use the dressing packet from the Coleslaw and spread over the cut side of the top half of the slider buns. Place the tops over the meats and cheese base.
Brush melted butter over the top of the buns, and place baking dish in oven. Bake for 20-25 minutes until cheese has melted and is golden.
Remove from oven and carefully while hot cut through to separate each slider. Serve hot with the remaining Classic Coleslaw and fresh green baby spinach leaves.
Featured Products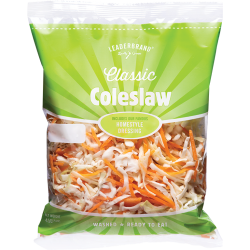 COLESLAW
The crisp sweetness of our Classic Coleslaw is complimented by LeaderBrand's signature Homestyle Dressing – a true dinnertime favourite!
Available All Year Round

Gisborne

Gluten Free

Washed & Ready To Eat

Dressing Included

Vegetarian
Total time
35 mins
Prep time
10 mins
Cook time
25 mins
Serving
4-6
Difficulty
Easy
Ingredients
12 slider/dinner rolls
½ cup piccalilli chutney or favourite homemade chutney
4-6 slices cooked beef, corned beef or ham slices
6 edam or mozzarella cheese slices
450g Leaderbrand Coleslaw
4 tablespoons melted butter