Directions
Heat the oil in a large frying pan over a medium heat. Fry the jackfruit, capsicum and onion until tender, and the jackfruit is starting to fall apart. Cook for 5 minutes, then add beans and season with salt and pepper.
Sprinkle over the paprika, chilli and cumin, and continue to cook for 10 minutes. Add half a cup of water if the mix becomes too dry.
Heat another heavy based frying pan or grill plate over a low heat. Place one tortilla in the pan, and top with cheese slices or a handful of grated cheese. Spoon on some of the jackfruit mix and then top with a large handful of the Leaderbrand Classic Coleslaw. Cover with another tortilla. Fry for 1-2 minutes, until cheese begins to melt.
Flip over the tortilla sandwich carefully to toast the other side. Remove to a warm tray and repeat with the next tortillas and mix.
Cut into quarters and serve hot or warm.
Variations: Add avocado, mashed potato, or hummus to the tortillas. 
Featured Products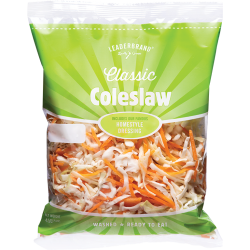 COLESLAW
The crisp sweetness of our Classic Coleslaw is complimented by LeaderBrand's signature Homestyle Dressing – a true dinnertime favourite!
Available All Year Round

Gisborne

Gluten Free

Washed & Ready To Eat

Dressing Included

Vegetarian
Total time
30 mins
Prep time
15 mins
Cook time
15 mins
Serving
4
Difficulty
Easy
Ingredients
1 tablespoon vegetable oil 
400g can jackfruit, drained 
1 red or green capsicum, chopped 
½ onion, finely chopped 
400g can beans, black, kidney, chili or baked beans 
salt and freshly ground black pepper 
½ teaspoon each smoked paprika, chili flakes and ground cumin 
8 round tortillas 
150g cheese slices or grated cheese 
450g bag Leaderbrand Classic Coleslaw