Directions
Heat a frying pan and fry bacon rashers until crispy.
Peel and mash the avocadoes in a small bowl. Season well with salt and pepper and stir in the lemon juice and mayonnaise.
Slice the loaf of bread into 8-10 thick slices. Toast in toaster or under a hot grill, until golden brown.
Mix coleslaw together with the dressing and season to taste.
Assemble the sandwiches, with the toasted bread, spread with mashed avocado, large handful of the coleslaw, and topped with crispy bacon rashers. Serve immediately.
Featured Products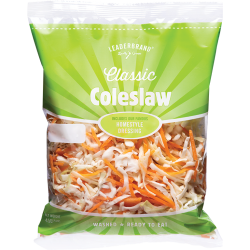 COLESLAW
The crisp sweetness of our Classic Coleslaw is complimented by LeaderBrand's signature Homestyle Dressing – a true dinnertime favourite!
Available All Year Round

Gisborne

Gluten Free

Washed & Ready To Eat

Dressing Included

Vegetarian
Total time
15 mins
Prep time
10 mins
Cook time
5 mins
Serving
6
Difficulty
Easy
Ingredients
8 rashers streaky bacon
2 ripe avocadoes
salt and freshly ground black pepper
1 lemon, juice of
2 tablespoons mayonnaise
1 loaf crusty bread, Vienna loaf, Rye or Ciabatta
450g Leaderbrand Coleslaw