Directions
Preheat oven to 200 degrees C. Grease 12 muffin cups or line with paper muffin liners.
Combine flour, sugar, ¾ cup chocolate chips (reserving ¼ cup) cocoa powder and baking soda in a large bowl. Whisk egg, yoghurt, milk, grated beetroot and vegetable oil in another bowl until smooth. Pour wet ingredients into chocolate mixture and stir until just blended.
Fill prepared muffin cups 3/4 full and sprinkle with remaining chocolate chips.
Bake in preheated oven until a toothpick inserted into the centre comes out clean, about 20 minutes. Cool in the tray for 10 minutes before removing to cool completely on a wire rack.
Optional: After removing from the oven, sprinkle with toasted ground nuts.
Featured Products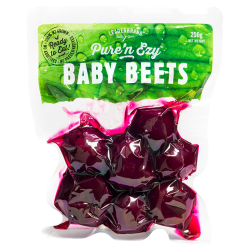 PURE'N EZY BEETROOT
Pure and simple with nothing added, our beetroot is 100% grown, packaged, and perfectly cooked here in New Zealand.
Available All Year Round

Chertsey

Gluten Free

No Additives

Vegan
Total time
40 mins
Prep time
15 mins
Cook time
25 mins
Serving
12 muffins
Difficulty
Easy
Ingredients
2 cups self-rising flour
1 cup white sugar
3/4 cup chocolate chips
1/2 cup unsweetened cocoa powder
1/2 teaspoon baking soda
1 teaspoon vanilla extract
1 x pack of LeaderBrand Beetroot (grated)
1 egg
1 cup plain yoghurt
1/2 cup milk
1/2 cup vegetable oil
1/4 cup chocolate chips