Directions
Step 1
Remove the husk and silk from the corn and place corn on a chopping board. Hold the cob upright on the board and use a sharp knife to carefully cut the kernels downward. Collect the kernels into a bowl and reserve. Discard the husk, silk and cob.
Step 2
Place a frying pan on medium heat and add oil. Once hot, add onion, celery and green capsicum. Fry for 5 minutes until softened and fragrant.
Step 3
Add chicken, garlic, smoked paprika, oregano, thyme, salt, cayenne pepper, and black pepper. Cook for 5 minutes, stirring to cook evenly. Stir in flour and cook for 2 minutes.
Step 4
Add chicken stock and the corn kernels. Stir to combine, cover and simmer for 5 minutes. Remove from heat and allow to cool uncovered for at least 10 minutes.*
Step 5
Remove puff pastry sheets from freezer to thaw. Preheat oven to 180°C.
Step 6
Once pastry is soft, cut each sheet in half so you have 6 long rectangles. Place onto a lined baking sheet. Divide the filling on half and then into thirds. Spoon a sixth of the filling onto one half of a piece of pastry, flattening gently with a spoon into a square shape, keeping 2cm from the edges clear. Lightly brush the edges with beaten egg yolk and fold the pastry in half so the edges line up perfectly. Crimp the edges closed with a fork and poke some holes across the surface of the pie. Repeat with the rest of the pies. Brush the tops of the pies with egg yolk.
Step 7
Bake at 180°C for 30 minutes until golden. Serve with Leaderbrand Classic Coleslaw.
*Filling can be made ahead of time and refrigerated until required.
**Pies can be made ahead of time and frozen to heat and eat later.
Featured Products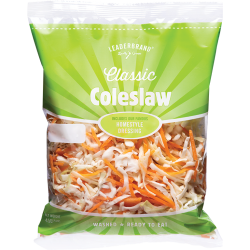 COLESLAW
The crisp sweetness of our Classic Coleslaw is complimented by LeaderBrand's signature Homestyle Dressing – a true dinnertime favourite!
Available All Year Round

Gisborne

Gluten Free

Washed & Ready To Eat

Dressing Included

Vegetarian
Total time
70 mins
Prep time
20
Cook time
50
Serving
4-6
Difficulty
Medium
Ingredients
2 sweetcorn
2 tablespoons oil
1/2 onion, diced
1 rib celery, diced
1/2 green capsicum, deseeded and diced
500g boneless chicken breast or thigh, cut into bite size pieces
4 garlic cloves, chopped
1 tablespoon smoked paprika
1 teaspoon dried oregano
1 teaspoon dried thyme
1 teaspoon salt
1/2 teaspoon Cayenne pepper
1/4 teaspoon black pepper
2 tablespoons plain flour
1 cup chicken stock
3 sheets frozen puff pastry
1 egg yolk, beaten
Leaderbrand Classic Coleslaw