Directions
Preheat the oven to 180°C. Bake the deseeded buttercup for approx 30 mins or until soft. Once cooked and cooled, peel off the skin and roughly chop. In a large mixing bowl mash the buttercup. Stir in the eggs, honey, oil and spices.
Gently mix in the flour and seeds until just combined.
Line a loaf or rectangular slice tin with baking paper and pour in the mixture. Cover the top with extra seeds.
Bake for 30-40 minutes depending on the type of tin used. Bake for longer for a deeper loaf tin. Check by inserting a skewer into the centre, if it comes out clean it is done.
Featured Products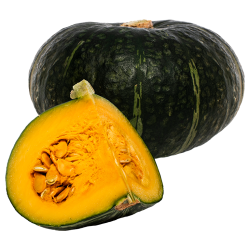 SQUASH
Our squash's unique chestnut flavour and vibrant colour enhances any meal. Use it in delicious soups, pastas, and pies, or bake it into moist cakes and breads.
Dec – Jun

Gluten Free

Rich In Vitamins A & C & Magnesium

Vegan

Gisborne & Chertsey
Total time
90 mins
Prep time
20 mins
Cook time
60-70 mins
Serving
Difficulty
Ingredients
1/2 buttercup squash
3 eggs
1 Tbsp liquid honey
1 Tbsp hazelnut oil
1 tsp turmeric
1/2 tsp chilli powder
1/2 tsp nutmeg
2 cups self raising flour
1/4 cup sunflower seeds, plus extra for topping
1/4 cup pumpkin seeds, plus extra for topping