Directions
Bring a pot of water to the boil, then gently lower in the eggs. Boil for 5-6 minutes for jammy eggs, then submerge in cold water.
In the meantime, peel the husks from the LeaderBrand corn cobs. Use a serrated knife to slice the corn kerns off the cob.
Heat a glug of olive oil in a pan, then add the kernels in a single layer and pan fry until golden and a little crispy.
Assemble the salad – start with the salad mix, then add the eggs (cut in half or quarters), avocado and tomato. Top with the corn kernels and croutons. I like to serve the dressing on the side so that everyone can add how much they want.
Serve with bread for a delicious, healthy and filling brunch!
Featured Products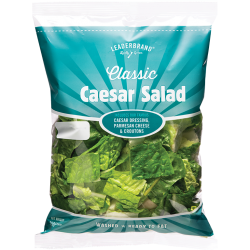 CAESAR SALAD
Sweet and crunchy cos lettuce paired with parmesan cheese, croutons and our signature Caesar dressing – a favourite for all ages!
Available All Year Round

Gisborne & Pukekohe

Washed & Ready To Eat

Dressing Included
Total time
25 mins
Prep time
10
Cook time
15
Serving
3-4
Difficulty
Easy
Ingredients
150g LeaderBrand Classic Caesar Salad bag
4 eggs
1 medium avocado, cut into chunks
1 large tomato, sliced
2 LeaderBrand sweet corn cobs
Olive oil
Salt and pepper
Bread to serve on the side