Directions
Step 1
Empty the bag of LeaderBrand Broccoslaw salad in a salad bowl or on a salad platter. Toss with the enclosed Lemonnaise dressing, if wished. Keep chilled while preparing the remaining salad ingredients.
Step 2
Heat a heavy-bottomed frying pan or grill plate until medium-hot. Spray with a little oil. Slice the block of halloumi cheese into 5mm thick slices. Place on a piece of clean kitchen paper to dry the edges. Place each piece on the hot grill plate and cook one side for 1-2 minutes, until golden brown. Carefully turn each piece over and cook for another 1-2 minutes. Allow to cool slightly.
Step 3
Mix all the dressing ingredients together in a glass jar with a lid or jug. Set aside.
Step 4
Arrange the grilled halloumi pieces over the Leaderbrand Broccoslaw salad with the vine-ripened tomatoes and garnish with fresh herbs.
Serve accompanied with the miso citrus dressing.
Featured Products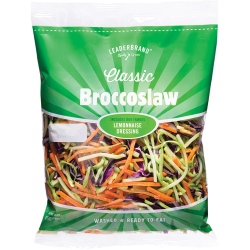 BROCCOSLAW
This healthy, versatile slaw tastes delicious and is a hit with the kids too. Try pairing it with our LeaderBrand Lemonnaise… simply delicious!
Mar – Oct

Gisborne, Pukekohe & Chertsey

Washed & Ready To Eat

Dressing Included

Vegetarian
Total time
15 mins
Prep time
5 mins
Cook time
10 mins
Serving
4
Difficulty
Easy
Ingredients
1 x LeaderBrand Broccoslaw
250g vine-ripened golden tomatoes, cut in half
250g halloumi cheese
Miso citrus dressing:
2 teaspoons miso paste
1 teaspoon grated ginger
½ cup fresh-squeezed orange juice
1 tablespoon rice vinegar
¼ cup extra virgin olive oil