Directions
Wash and dry prawns. Remove the black line down the back of each prawn if prominent, set aside. Prepare the broccoli by cutting into small florets. Cut the stalk into bite-size pieces. Refresh the broccoli under cold water. Prepare the onions, capsicums and spring onions, cutting into bit sized pieces.
Heat a large frying pan or wok on a medium to high heat. Add vegetable and sesame oil and heat through. Add onion and fry until tender. Add garlic, ginger and chilli paste, fry for 1-2 minutes.
Add prawn and cook for 2-3 minutes, until turn pink. Remove and place on a side plate. Keep frying pan or wok on the heat add capsicum, spring onions and broccoli florets. Toss in oil and flavourings.
Combine oyster sauce, fish sauce, black pepper, and sugar in a bowl and mix with 1-2 tablespoons water until sugar has dissolved.
Add the prawns back to the stir fry and drizzle over the sauce. Toss together for 1-2 minutes. Serve immediately with steamed white rice. Garnish with Vietnamese mint leaves.
Vietnamese mint leaves.
Featured Products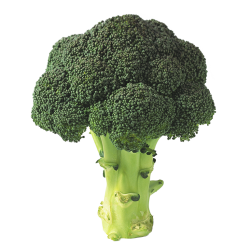 BROCCOLI
Did you know broccoli has more health benefits per bite than any other vegetable? We grow and handpick ours at optimum maturity to lock in all the good stuff.
Available All Year Round

Gisborne, Pukekohe & Chertsey

Gluten Free

Rich Source Of Vitamins, Minerals & Antioxidants

Vegan
Total time
45 mins
Prep time
30 mins
Cook time
15 mins
Serving
4-6
Difficulty
Easy
Ingredients
500g uncooked prawns, with tails on 
2 heads of Broccoli 
1 red onions, sliced thinly 
1 red and green capsicum, seeds removed 
3 spring onions, slice into pieces 
2 tablespoons vegetable oil 
1 tablespoon sesame oil 
8 cloves garlic, crushed 
1 tablespoon fresh grated ginger 
2 teaspoons crushed chilli 
1 tablespoon oyster sauce 
2 teapsoons fish sauce 
1 tablespoon freshly ground black peppercorns 
1 teaspoon sugar 
To serve, Vietnamese mint leaves, extra black pepper