Directions
Step 1
Lay the unopened Leaderbrand Pure n' Ezy Baby Beets packet on a workbench and use your hand to smash the beetroot. Open the Leaderbrand Pure n' Ezy Beetroot packet and pour the broken-up pieces of beetroot and juices into a sieve over a bowl, allowing to drain and keep the juices and flesh separately.
Step 2
Place the flour in a mixing bowl and create a well in the middle. Mix the salt into the water and stir until dissolved, then stir in the reserved beetroot juice. Add the water slowly to the flour gradually, stirring constantly. Stir together until all the water is absorbed.
Step 3
With clean hands, gather the dough into a ball. Turn it onto a clean surface and knead for ten minutes. The dough should not stick: add a small amount of flour if necessary. Split the dough into two, roll each one into a log. Wrap the logs in plastic wrap. Let the dough rest for 30 minutes to an hour.
Step 4
While the dough is resting, make the filling: Toss to combine coleslaw and salt. Leave for 10-15 minutes and then squeeze with your hands to remove any moisture. Mix together beetroot flesh, cabbage, mince, chives, garlic, mushrooms, ginger, soy sauce, oyster sauce, sesame oil and pinch salt in a large bowl.
Step 5
Cut the two pastry logs, each into 12 pieces. Dust the work surface with a little cornflour if the dough sticks. Roll out each piece of dough separately and use a 10cm cookie cutter or a wide rim cup to cut out circles. Remove all the trim, knead it into a ball and place it in the covered bowl for a few minutes. Then roll it out to create more wrappers. Dust the wrappers with cornflour before stacking them up.
Step 6
With clean, dry hands, place a gyoza wrapper on one hand and put 1 teaspoon filling in the centre of the wrapper—brush the edge of half the wrapper with cold water. Make a semi-circle by folding the wrapper in half. Pinch open sides of the wrapper together with your fingers and seal the top.
Step 7
Place a large heavy-based frying pan over medium-high heat, add 2 teaspoons sesame oil and arrange all the gyoza in the pan. Add 200mls water to cover the bottom of the pan, cover with lid and cook on medium-high heat for 6-7 minutes or until translucent, cooked and no liquid is left in the pan. Take off the lid and cook for another 30-60 seconds for the bottoms to go crunchy.
Make the dipping sauce Mix together soy sauce, chives, vinegar, mirin and chilli oil if using.
Serve gyoza hot with dipping sauce.
Featured Products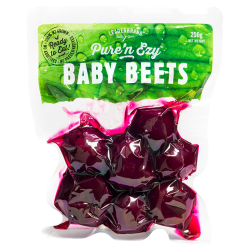 PURE'N EZY BEETROOT
Pure and simple with nothing added, our beetroot is 100% grown, packaged, and perfectly cooked here in New Zealand.
Available All Year Round

Chertsey

Gluten Free

No Additives

Vegan
Total time
70 mins
Prep time
60
Cook time
10
Serving
12-24 dumplings
Difficulty
Hard
Ingredients
250g packet LeaderBrand Pure n' Ezy Beetroot
2 cups (250g) plain flour
½ cup hot water, just boiled
½ teaspoon salt
¼ cup cornflour or potato starch, for dusting
Pork Filling:
¼ LeaderBrand Coleslaw
½ tsp salt
300g lean pork or chicken mince
1 spring onion, finely chopped
2 cloves garlic, crushed
6 brown mushrooms, soaked in hot water, finely chopped
1 tbsp grated ginger
1 tbsp oyster sauce
2 tsp soy sauce
2 tsp sesame oil, plus 2 tsp extra for cooking
Dipping sauce:
2 tbsp soy sauce
2 tbsp sesame oil
1 tbsp mirin