Directions
Preheat oven to 180°C. Grease a large baking dish. Purée the beetroot in a food processor or blender.
In a large mixing bowl, combine flour, sugar, beetroot purée and cocoa powder. Combine milk and eggs in a separate bowl and slowly add to the flour mix whilst stirring. Stir through the chocolate buttons. Once combined transfer to the baking dish.
Mix together the sauce ingredients in a jug and pour over the back of a spoon into the baking dish. Place in the oven and bake for 30 minutes or until the top is firm and bounces back to the touch. Sift icing sugar over the top and serve with whipped cream.
Featured Products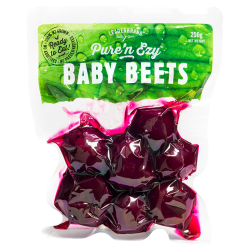 PURE'N EZY BEETROOT
Pure and simple with nothing added, our beetroot is 100% grown, packaged, and perfectly cooked here in New Zealand.
Available All Year Round

Chertsey

Gluten Free

No Additives

Vegan
Total time
40 mins
Prep time
10 mins
Cook time
30 mins
Serving
4-6
Difficulty
Chill Time
Ingredients
2 cups self-raising flour
6 Tbsp cocoa powder
1 cup brown sugar
3 eggs
1 cup milk
1/2 cup chocolate buttons
1 pack LeaderBrand Pure'n Ezy Baby Beets
Whipped cream & icing sugar to serve
Sauce Ingredients:
1 cup brown sugar
4 Tbsp cocoa powder
2 1/2 cups boiling water