Directions
Step 1
Preheat the oven to 180°C. Line a 30 x 20 cm slice tin with baking paper.
Step 2
Whisk the egg whites in a clean, large bowl in an electric mixer on full speed until very stiff. Gradually add the sugar, a teaspoon at a time, and still on high speed, whisking well between each addition. Whisk until very, very stiff and glossy and all the sugar has been added and dissolved.
Step 3
Puree the LeaderBrand Pure'n Ezy Beetroot in a blender or food processor. Add lemon juice and cornflour and mix well.
Step 4
Fold the beetroot puree through one-quarter of the meringue using a metal spoon until well combined. Then fold this through the remaining meringue mix and softly fold together to combine.
Step 5
Spoon the meringue mixture into the prepared tin and spread to create an even top.
Step 6
Place the meringue in the preheated oven and bake for about 8 minutes until very golden. Then lower the temperature to 160°C and bake the roulade for a further 25 minutes until firm to the touch.
Step 7
Remove the meringue from the oven and out onto a sheet of non-stick baking paper. Remove the paper from the base of the cooked meringue and allow it to cool for about 10 minutes.
Step 8
Lightly whip the cream, mix in the yoghurt. Spread evenly over the meringue. Cut the strawberries into quarters and sprinkle over the cream mixture. Roll up the meringue firmly using the paper to help you form a roulade from the long end; it is essential to keep the roll very tight. Wrap in non-stick baking paper and chill before serving.
Serve with extra whipped cream on top, slices of strawberries, raspberries and pomegranate seeds—dust lightly with icing sugar.
Featured Products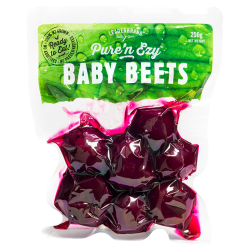 PURE'N EZY BEETROOT
Pure and simple with nothing added, our beetroot is 100% grown, packaged, and perfectly cooked here in New Zealand.
Available All Year Round

Chertsey

Gluten Free

No Additives

Vegan
Total time
65 mins
Prep time
25 mins
Cook time
40 mins
Serving
6-8
Difficulty
Moderate
Ingredients
6 egg whites
100g caster sugar
250g LeaderBrand Pure n'ezy Beetroot
1 tablespoon lemon juice
2 tablespoons cornflour
150ml cream, whipped
100ml Greek yoghurt
To serve:
strawberries
raspberries
pomegranate seeds