Directions
Step 1
Crush garlic and a pinch of kosher salt in a mortar with the pestle until garlic is mashed and paste-like.
Step 2
Add basil and spinach in batches, crushing down the leaves until they form a fairly fine paste. Add in pine nuts and grind down to combine. Add the cheese in batches and pound into the mixture until incorporated.
Step 3
Drizzle in olive oil a bit at a time, pounding to combine. When all the olive oil has been added and emulsified into the mixture, transfer pesto to a bowl to serve and drizzle the surface with olive oil.
Featured Products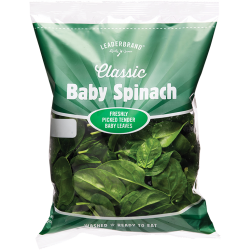 BABY SPINACH
Creamy, smooth, and full of vitamins! Toss through another salad, add a handful to a smoothie or cook with many other dishes.
Available All Year Round

Gisborne & Matamata

Gluten Free

Washed & Ready To Eat

Vegan
Total time
15 mins
Prep time
10 mins
Cook time
5 mins
Serving
2-4
Difficulty
Easy
Ingredients
4 cloves garlic, peeled
¼ tsp rock salt
1 large bunch fresh basil
3 Tbsp pine nuts
1/2 pack LeaderBrand Baby Spinach
1 cup finely grated Parmesan cheese
½ cup mild extra-virgin olive oil