Directions
Step 1
Trim the stalks of the broccoli using a sharp knife, to cut away any leaves, and woody stems. Slice the head of broccoli in half, lengthways.
Step 2
Refresh the broccoli halves in a bowl full of ice-cold water for 10 minutes. Remove and dry on clean kitchen paper.
Step 3
Mix in a bowl the soy sauce, sesame seeds, sweet chilli sauce, sesame oil and lemon juice. Use 2 tablespoons boiling hot water, to dissolve the miso paste and then mix into other ingredients.
Step 4
Place the broccoli halves in a large flat dish and pour over the marinade mix. Turn the broccoli pieces over and over, coating all sides. Season well with salt and freshly ground black pepper.
Step 5
Heat a barbecue plate or grill plate to medium high. Brush the plate with sesame oil. Place the broccoli halves with cut side down and cook for 3 minutes, then turn over and cook the other side for 2-3 minutes, depending on the size of the broccoli piece.
Serve the broccoli immediately while warm drizzled with extra sweet chilli sauce, or allow to cool and cut up for a tasty broccoli salad.
Featured Products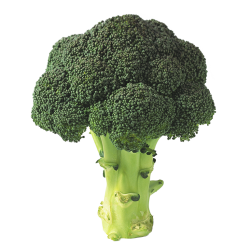 BROCCOLI
Did you know broccoli has more health benefits per bite than any other vegetable? We grow and handpick ours at optimum maturity to lock in all the good stuff.
Available All Year Round

Gisborne, Pukekohe & Chertsey

Gluten Free

Rich Source Of Vitamins, Minerals & Antioxidants

Vegan
Total time
30 mins
Prep time
20
Cook time
10
Serving
4
Difficulty
Easy
Ingredients
Dressing
200mls tamari soy sauce
¼ black sesame seeds
¼ cup sweet chilli sauce
3 tablespoons sesame oil
1 lemon, juice of
3 tablespoons miso paste
Salt and freshly ground black pepper
To serve, extra sweet chilli sauce