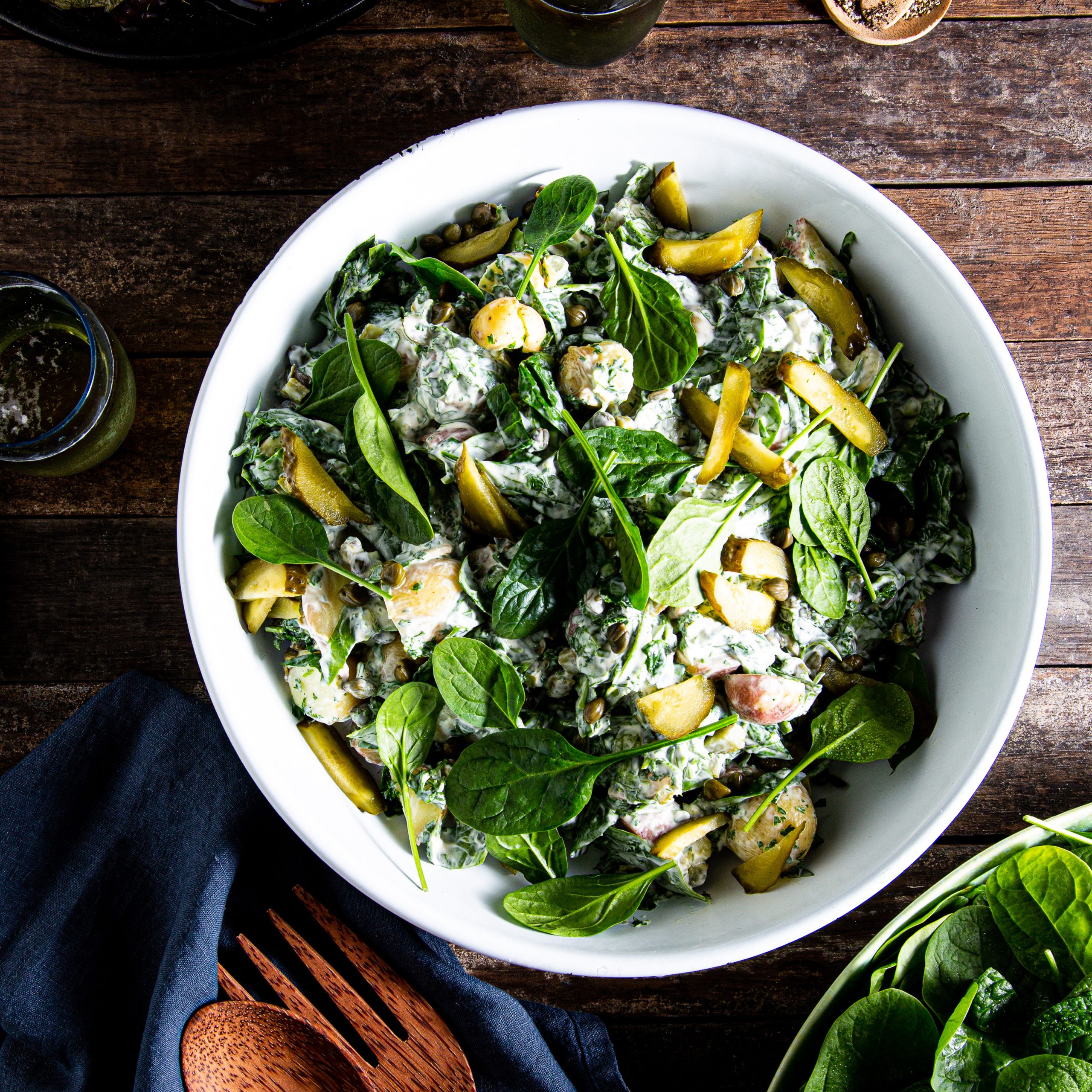 BABY SPINACH & POTATO SALAD
Healthy, fast and simple meal solution. Shared platter, on the go, easy to prepare in minutes.
Directions
Remove the leaves from the first bag of baby spinach. Place on a chopping board and finely shred all the leaves. Set aside.
Heat a pan of water until boiling. Cut any of the new potatoes in half, to make all the pieces bite sized. Cook until tender, about 12-15 minutes. Drain and refresh in cold water. Place in fridge to chill.
While potato is cooling, mix together the yogurt, mayonnaise, finely chopped parsley, salt and pepper, chilli and chilli flakes. Stir in the lemon juice and mix until well combined.
Add the shredded spinach leaves and combine.
Mix together in a large bowl the yogurt dressing with the cooled potatoes. Place half of the second bag of spinach leaves on a serving bowl or platter. Tip the potato onto the leaves. Arrange the second half of leaves over the potato and arrange over the capers, and gherkins to finish. This can be given a light toss to combine if desired.
Chill until ready to accompany with favourite barbecued foods, or as the centrepiece to the meal.
Featured Products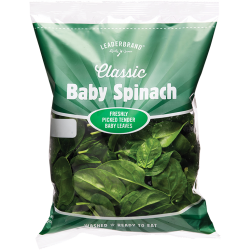 BABY SPINACH
Creamy, smooth, and full of vitamins! Toss through another salad, add a handful to a smoothie or cook with many other dishes.
Available All Year Round

Gisborne & Matamata

Gluten Free

Washed & Ready To Eat

Vegan
Total time
25 mins
Prep time
15 mins
Cook time
10 mins
Serving
Difficulty
Ingredients
2 x 150g bags Leaderbrand Baby Spinach
800g baby potatoes
2 cups natural unsweetened Greek yogurt
2 tablespoons mayonnaise or aioli
1 cup finely chopped parsley
1 teaspoon each of freshly ground black pepper and salt
¼ teaspoon cayenne pepper or chilli powder
½ teaspoon chilli flakes
1 lemon, juice of
1/2 cup pickled capers
2 cups sliced gherkins