Directions
Step 1
Make the avocado and herb dressing; place the herbs in a blender or food processor. Process until very finely minced. Add mustard, olive oil, and vinegar. Drizzle the peeled avocado with the lemon juice. Scrape down the bowl then process for just a few seconds, then add the avocado and lemon juice. Transfer to a bowl, and season to taste with salt and pepper. Cover and chill.
Step 2
Trim the Leaderbrand Asparagus to remove excess leaves on the stalk and trim the woody ends with a sharp knife. Cut the asparagus lengthways. Heat a deep sauté pan or frying pan with 2 cups water, and add lemon slices and salt. Blanch the asparagus in the boiling water for 2 minutes until tender. Remove with a slotted spoon and refresh in ice cold water to stop the cooking.
Step 3
Trim courgettes off long stems, wash and slice lengthways. Using the same pan of water, lightly blanch the courgettes for 1 minute, turn and leave for 1 more minute. Remove with a slotted spoon and refresh in ice cold water. Cook the peas and/or snow peas in a similar way, blanching for 1 minute until tender. Refresh in cold water.
Step 4
Assemble the salad, by spooning the avocado and herb sauce onto the bottom of the plate. Arrange the asparagus, courgettes over the sauce and drizzle with olive oil. Sprinkle over the peas and garnish with fresh courgette flowers and plenty of fresh herbs. Finally squeeze over the lemon juice, sprinkle with sea salt and freshly ground black pepper, and serve with extra avocado sauce on the side.
The vegetables and dressing can be made ahead of time and assembled just before serving.
Featured Products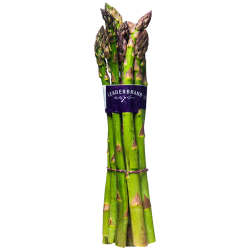 ASPARAGUS
A springtime favourite and super versatile too, asparagus is considered a culinary delight for New Zealanders up and down the country.
Sept – Dec

Chertsey

Gluten Free

Source Of Vitamin C

Vegan
Total time
30 mins
Prep time
20 mins
Cook time
10 mins
Serving
4-6
Difficulty
Moderate
Ingredients
250g LeaderBrand Asparagus
1 lemon, sliced
½ tsp salt
4-6 small courgettes
2-3 Courgette flowers
1 cup Fresh or frozen peas
100g snow peas or mangetout
¼ cup extra virgin olive oil
Garnish, basil leaves, pea tendrils
Avocado and herb dressing:
½ cup chopped fresh parsley
20 fresh basil leaves
½ cup dill leaves
½ cup mint leaves
4 spring onions, finely chopped
1 teaspoon Dijon mustard
1/3 cup olive oil
1 cup red wine vinegar
2 tablespoons lemon juice
1 avocado, stone removed, peeled
Salt and freshly ground black pepper