Directions
Step 1
Cook bacon in a frying pan or oven until crispy, about 8-10 minutes.
Step 2
Mix together the LeaderBrand Caesar Salad leaves with the enclosed Caesar salad dressing, croutons and parmesan cheese.
Step 3
Shred the cooked chicken and mix the chicken in with salad leaves.
Step 4
Lay each wrap flat on a dry board. Spread each wrap with a little cream cheese. Top with a layer of chicken and Caesar salad. Sprinkle with crispy bacon. Arrange 2-3 slices of avocado on top.
Step 5
Roll the wraps up, enclosing the ends. Wrap with greaseproof paper, and secure with twine or string.
Serve immediately or cover and place in the fridge until ready to serve.
Featured Products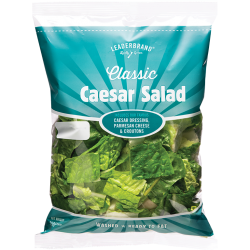 CAESAR SALAD
Sweet and crunchy cos lettuce paired with parmesan cheese, croutons and our signature Caesar dressing – a favourite for all ages!
Available All Year Round

Gisborne & Pukekohe

Washed & Ready To Eat

Dressing Included
Total time
15 mins
Prep time
5 mins
Cook time
10 mins
Serving
4
Difficulty
Easy
Ingredients
4 rashers bacon, finely diced
LeaderBrand Caesar Salad
500g cooked chicken pieces
4-6 flatbread wraps
4 tablespoons cream cheese
1 avocado, peeled, sliced