Directions
Cut up the dates into small pieces and remove stones. Place in a bowl with dried blueberries. Blend beetroot, oil, cinnamon, nutmeg, honey, and one cup of water in the food processor and pulse to make a smooth paste.
Pour the beetroot paste over the dates and blueberries and allow to soak for 20 minutes.
Meanwhile, preheat oven to 120°C. Mix oats, seeds, almonds in a baking tray and dry roast them for 10 minutes.
Mix together the toasted oat mix with the beetroot and date mix. Add the egg and combine well.
Increase the heat of the oven to 160°C. Grease a 20 x 30cm slice tin with a little spray oil and line with baking paper. Spread the mixture and press it down with the back of a spoon.
Bake in oven for 30 minutes until it is golden brown. Cool in tin before slicing.
Featured Products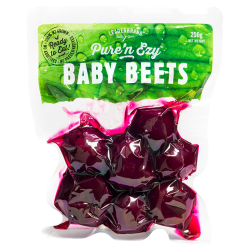 PURE'N EZY BEETROOT
Pure and simple with nothing added, our beetroot is 100% grown, packaged, and perfectly cooked here in New Zealand.
Available All Year Round

Chertsey

Gluten Free

No Additives

Vegan
Total time
50 mins
Prep time
20 mins
Cook time
30 mins
Serving
12 slices
Difficulty
Medium
Ingredients
1 cups (175g) dates
½ cup dried blueberries, or other dried fruit like sultanas, currants or raisins
1 x pack LeaderBrand Beetroot
1 teaspoon ground cinnamon
1 teaspoon grated nutmeg
2 tablespoon olive oil
2 tablespoons liquid honey
2 cups (190g) rolled oats
½ cup pumpkin or sunflower seeds
¼ cup chia seeds
70g flaked almonds, toasted
1 egg, beaten