Directions
Step 1
Make the black sesame dressing by placing all the dressing ingredients into a small blender or food processor bowl. Blend for 1 minute until the sesame seeds start to break apart. Season to taste. Pour into a jug or bowl and set aside. The mix will appear brown and then thicken and darken as it settles.
Step 2
Remove the LeaderBrand Baby Spinach leaves from the bag and refresh in ice-cold water. Trim the wooden end from the LeaderBrand Asparagus spears. Cut into smaller bite-sized pieces. Slice the onion into thin slices.
Step 3
Bring a large saucepan of water to a boil, then crumble in the vegetable stock cube. Cook the noodles for 3 minutes until tender to the bite. Drain, rinse well under cold water. Leave to drain.
Step 4
Steam the LeaderBrand Asparagus spears in shallow water in the microwave or steamer, until just tender. Refresh in ice-cold water to keep the crisp green colour.
Step 5
Toss the noodles with thin onion slices, LeaderBrand Asparagus and add half the sesame dressing to coat the noodles and vegetables well.
Step 6
Divide the noodles and vegetables between four bowls. Top each bowl with a good handful of fresh LeaderBrand Baby Spinach leaves.
Featured Products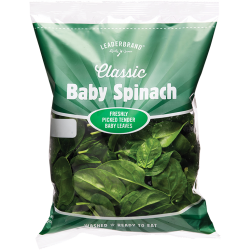 BABY SPINACH
Creamy, smooth, and full of vitamins! Toss through another salad, add a handful to a smoothie or cook with many other dishes.
Available All Year Round

Gisborne & Matamata

Gluten Free

Washed & Ready To Eat

Vegan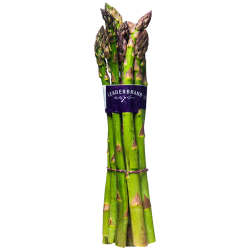 ASPARAGUS
A springtime favourite and super versatile too, asparagus is considered a culinary delight for New Zealanders up and down the country.
Sept – Dec

Chertsey

Gluten Free

Source Of Vitamin C

Vegan
Total time
40 mins
Prep time
30 mins
Cook time
10 mins
Serving
4
Difficulty
Moderate
Ingredients
120g bag LeaderBrand Baby Spinach Leaves
200g LeaderBrand Asparagus, trimmed
1 red onion, peeled, sliced thinly (optional)
200g Black bean noodles
1 vegetable stock cube
Black Sesame dressing:
4 tablespoons black sesame seeds
1 tablespoon mirin
2 tablespoons soy sauce
1 teaspoon miso paste, optional
1 tbsp brown sugar
1 tablespoon lemon juice
Salt and freshly ground black pepper
To serve: