Directions
Chop the un-dressed Leaderbrand Ranch slaw and spinach leaves roughly into smaller pieces. Add to a large mixing bowl.
Mix in the onion, soup powder, grated cheese and season with salt and pepper. Stir in the reduced cream and add the Ranch slaw dressing packet to the mix. Combine well. Chill until ready to use.
Preheat the oven to 200°C. Melt the butter. Lay out slices on a clean board. Brush one side of the bread with melted butter.
Spread a spoonful of the Ranch slaw mix over each slice of bread. Roll the slices up and place on a greased baking tray. Pack them close together to give strength when cooking. Continue until all the mix has been used up.
Brush the tops with more melted butter. Place in oven and bake for 20-25 minutes or until the bread is toasted and golden-brown.
Serve with extra Ranchslaw on the side for an easy dinner.
Featured Products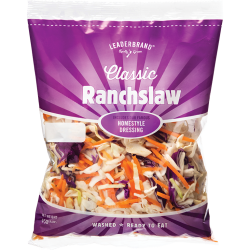 RANCHSLAW
A farmstyle classic that comes with our delicious Homestyle Dressing. The perfect combination of taste, colour, and crunch!
Available All Year Round

Gisborne

Gluten Free

Washed & Ready To Eat

Dressing Included

Vegetarian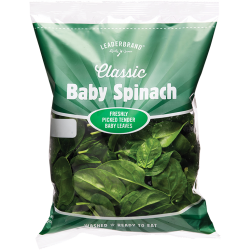 BABY SPINACH
Creamy, smooth, and full of vitamins! Toss through another salad, add a handful to a smoothie or cook with many other dishes.
Available All Year Round

Gisborne & Matamata

Gluten Free

Washed & Ready To Eat

Vegan
Total time
50 mins
Prep time
25 mins
Cook time
25 mins
Serving
4-6
Difficulty
Easy
Ingredients
2 cups Leaderbrand Ranchslaw, finely chopped
2 cups Leaderbrand spinach leaves
1 onion, finely diced
1 packet onion soup powder
2 cups grated cheddar cheese
2 x 230ml cans reduced cream
2 loaves sandwich sliced bread
100g butter, melted